Dean's Flavored Cigars
Dean's Cigars are for those
looking more flavor but
don't want to break the
bank. It would be hard to
find a better value for the
quality.
Dean's Large Cigars contain
slow-burning, air-cured burley
filler and are wrapped in a
100% homogenized tobacco
wrapper.
They come in nine flavors: Full
Flavor, Mild, Menthol, Cherry,
Vanilla, Rum, Wild Berry,
Chocolate, and Peach, and
contain only natural flavoring
agents. Presented in easy to
carry 20-cigar soft-packs.
Dean's cigars contain only the
highest-quality, tobacco, like all
their cigar flavors and pipe
tobaccos.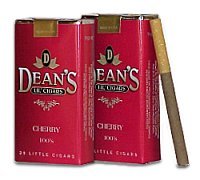 © TBS Advertising Network 2013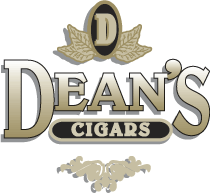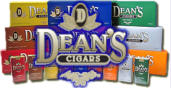 Dean's Large Cigars are skillfully blended for an
extremely mild smoke & light aroma. They come in seven
exciting flavors sure to please the smoker looking for a
nice sweet tasting and pleasant cigar.
All seven cigar flavors in the series are 100mm (3 7/8") in
length, 7mm in diameter (ring gauge of 20 for you regular
cigar smokers) and all have 30mm filters. The cigar
wrappers are a rich, milk chocolate color with "Cork" style
filter tipping paper. The filter tipping papers of the Vanilla,
Cherry, Peach & Chocolate flavors are lightly sweetened
to enhance the aromatic taste of these four flavors.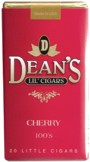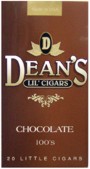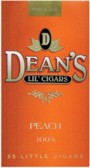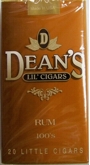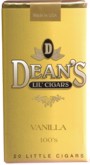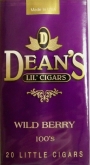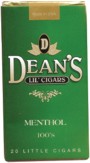 These great cigars are proudly made in North Carolina with imported and American ingredients!
Dean's Large Cigars come in packs of 20, 10 packs per carton (200 cigars per carton). To view the most
current up to date price and availability please be sure to click on the Dean's cigar you are interested in.
DeansCigars.com is dedicated to bringing you the best prices on Deans Cigars available online. Product links will take you to a retail
store on the net with the best prices available for Deans brand cigars. Prices advertised and availability are subject to change at any
time. This website is not affiliated with the manufacturer of Deans cigars. All references to product names, logos, and photos are for the
sole purpose of advertising authentic goods. All trademarks remain the property of their associated trademark holders.

Dean's Large Cigars are also available in a mild tobacco
blend and a full strength tobacco blend without any added
flavors. Same size as the Dean's Flavored Cigars.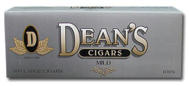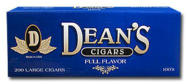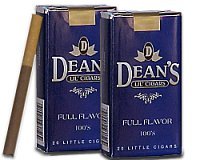 Only $14.99
for 200 Cigars!
...Also only $14.99 for 200 Cigars!